Now is the time to Get your Circut Explore Air®
**This post contains affiliate links and I will be compensated if you make a purchase after clicking through my links.

Did you buy your Circut Explore Air yet? If not, don't delay, NOW is the time to do it! Right now, you canbuy a Cricut Explore Air and get 50% off any Starter Set! That's right – and there are three starter sets to choose from – Deluxe Starter Set, Basic Starter Set and the Complete Starter Set. All designed to help you do even more with your Cricut Explore Air® machine! Just use code STARTER at checkout to get your savings.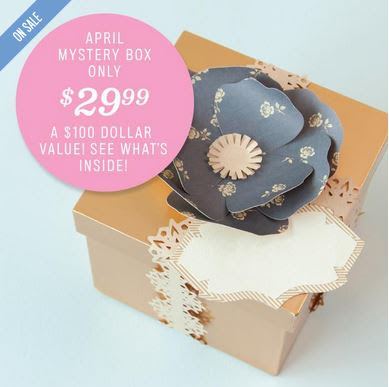 And the April Mystery box is now available! $100 worth of goodies for only $29.99. The contents are a mystery, but this box includes cartridges and craft supplies for spring creating! You can get all these wonderful crafting supplies AND get free shipping this month too – just use code APRILSHIP. But supplies are limited, so get yours now before they run out!
April Mystery Box
Now through 4/30

All Cricut supplies are 35% off
Through 4/7

Free shipping on all orders at Cricut with code APRILSHIP
Now through 4/30

50% off Cricut Explore® Deluxe Starter Set with purchase of Cricut Explore Air™. Code: STARTER
Now through 4/30

50% off Cricut Explore® Basic Starter Set with purchase of Cricut Explore Air™. Code: STARTER
Now through 4/30

50% off Cricut Explore® Complete Starter Set with purchase of Cricut Explore Air™. Code: STARTER
Now through 4/30